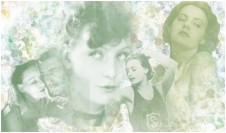 HOLLYWOOD
1926: MGM didn't know what to do with Garbo when she came to the States. They thought she looked special, to special. She was unemployed for quite a while, and was thinking about going back to Sweden when famous photographer Genthe shot some great photos of her. At first Garbo didn't hand the pics over to MGM… but when she did, they realised she was one in a million. They cast her in "The Torrent", along with silent hunk Ricardo Cortez. The movie is said to be rather dull … and it didn't do very well when it opened at theatres on February the 8th. Allthough "The torrent" wasn't a box- office hit, it had introduced Garbo to the public- eye, as a rising star. Garbos next movie was called "The temptress". Mauritz Stiller was meant to direct it, but got sacked for being to controversial. Garbo had been looking foreward to working with her mentor…. and got scared when MGM hired someone new to direct her movie. The new director was Fred Niblo. During the filming, Garbo's sister Alma died back in Sweden. The papers claimed that Garbo was totally untouched by her sisters death, but that was not the truth. She collapsed… but had to continue filming. Garbo hated "The temptress", and wrote to her friends in Sweden ." It's terrible: the intrigue, Garbo…it's all dreadfull…". But the critics actually liked the movie, and had only good things to say about Garbos performance. They meant she was to be the new Hollywood vamp…a stamp Garbo didn't like.
1927: Garbos next movie: "Flesh and the devil", teamed her and John Gilbert for the first time. They were to become one of the hottest "silent- couples" of the 20- ies. The film was very erotic for it's time, and Garbo and Gilbert made it even more sensual. The movie was Garbos first BIG boxoffice hit. People came to see the love- scenes between her and Gilbert… and it didn't take long before rumours said Garbo and Gilbert were a real life couple as well . It's known that Gilbert adored Garbo, and wanted to marry her. Garbo said this about Gilbert after his death: "It was never a romance…. now I wonder what I ever saw in him"….Garbo and Gilbert was teamed up for another movie: "Love" ( a silent version of Anna Karenina") after their tremendous debut as a twosome . Louis B Mayer advised Garbo not to act her best in this movie, because he didn't wan't the picture to be a one- woman show……. But still she did indeed glow in "Love"…. and she was even more beautiful than before. "Love" was another box office hit, much to do with the posters: "Gilbert and Garbo in LOVE"….. what a trick!!
1928: Garbo made two movies in 1928: "The divine woman", and "The mysterious woman". They both did well at the theatres, and Garbo was now an astablished star. She didn't like publicity, nor interviews. She was a mystery. Allthough Garbos films did well, 1928 was a very difficult year for Garbo. Mauritz Stiller, who had failed in Hollywood, died in Sweden on November 8th. Garbo fainted when she got the news … then locked herself into her wardrobe, and stayed there for a short while. Then she came out, did her scenes, and left the set. Stillers death made a huge impact on Garbo, and she said she always missed him.
1929: Another great box- office year for Garbo. But MGM had a big worry: the talkies was the big thing. And they knew that sooner or later they'd have to do a talkie with their biggest female star. Still they postponed her talkie- debut, and released four silent movies : "Wild orchids", "The single standard", and "The kiss". "The single standard" was quite daring for 1929 to be. Garbo shows her beautiful legs, and plays quite an independent woman. After doing four movies in a year, MGM gave Garbo time to go home to Sweden. She'd been longing to see her family for so long, and looked foreward to a peacefull vacation in her beloved Sweden. Peace was the last thing she got in Europe. People in Europe was crazy about Garbo…. her biggest public was there. When she arrived in Gothenburg by boat, thousands of people had gatherd to get a glimpse of Swedens movie- princess. This was the last thing she'd wanted. .
MENÜ
+bio+
+filmo+
+photos+
+girls&boys+
+www+
+updates?
+site stuff+
+guestbook+




BIOGRAPHY
+shy swedish girl+
+hollywood+